Best Ways to Make Out-of-Town Guests Feel Truly Welcome
Mi casa es su casa.
It's so wonderful to have faraway friends and family come to visit for the weekend – you get to show them all your favourite places and eat at your local hot spots. With that said, prepping for the arrival of guests can get stressful. I've found the key to making guests feel comfortable is to simply put yourself in their shoes and imagine what would be most appreciated.
Here are a few of my key steps:
Get Tidy.
This is the best time to get motivated to put your home in top-top shape. Anything that can be … can be done now. Tackle those lingering loads of laundry, clean the fridge, organize that stack of books and magazines and make your home sparkle. Fluff those pillows, dust the blinds and give your place a good vacuum. It's amazing how an afternoon of cleaning can change the whole vibe in your home. Plus you feel proud when your guests walk through the door.
Stock Up
Are there snacks and beverages that you know your guests just love!!! Pick those up, along with some of the usual suspects. It's great to have these when so your guest can easily access and munch on when they get hungry. When my family comes to town, I stock up on Mexican beer, cheese and crackers, berries and yogurt, and a few breakfast things – usually eggs, bacon, and avocados. Don't forget the coffee!!! An assortment of coffees is always welcome and impressive. Fresh squeezed juices and teas are good choices as well.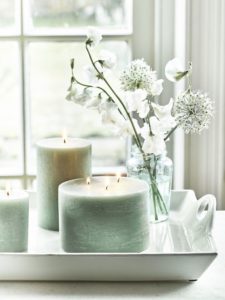 Make Room.
Let's not forget they are going to need some room for their things. Closet space is monumental. Even a drawer or two will be much appreciated so they can unpack what they need to. I love putting wooden hangers in the guest room closet and keeping that closet floor empty so they can store their suitcase. Leave empty space on both the bedside tables and the dresser top … it's the perfect place for keys, watches, phones, and such. Same goes for the bathroom. They will need space for their toiletries.
Get it Cozy.
Nothing says "ahhh" like slipping between some crisp clean sheets. Now add plenty of fluffy pillows and an extra blanket near the bed. Cozy should also flow into the guest bathroom. A nice bath mat, a guest robe (if the budget allows) and loads of towels. Loads. Need I say more !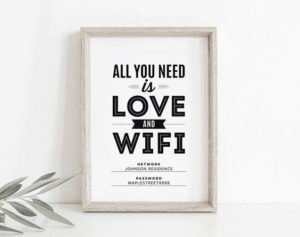 Essentials are, well, Essential.
If your guests are like me (and, well, pretty much everybody), the first thing they will look for is WIFI information and a charging station. Make it easy for them by placing a lovely note card with the log in and password information for your internet by their bedside table and maybe even an extra charging cable if you have one.
Here is a list of some essentials you may want to have available for your guest:
• Shampoo/Conditioner + Blow Dryer
• Spare Toothbrushes + Toothpaste
• Lotions + Shower Gels
• Tylenol, Tums, + Bandaids
All about the Details.
Sometimes an unused room can get forgotten and unnoticed in a normal routine of your home care … especially in the area of electrical and utilities. And since you don't want your guests sitting in the dark with their cell phone lights on, check that all light bulbs are working, lamps are plugged in, and ceiling fans and bathroom fans are working. If you have at.v. in the guest room, check the the remote is around and the batteries are working in it. Remember: you may know the layout of your home, but your guests might to – especially in the dark. Prevent any mishaps and stubbed toes by installing a few night lights to guide the way from the bedroom to the bathroom. And not that you are thinking about the bathroom, check that there is a good supply of toilet tissue, kleenex tissue, and a plunger (just in case).
Don't Forget the Kids.
When you company includes children, make sure you are accommodating them too. It's great to stock up on healthy snacks for kids … and some not so healthy but so so yummy ones as well! Pick up a game or two or plan some easy crafts for them to do. Plus if you want an adults night out, find some names and numbers of some babysitters near by. By no means don't feel like you need to make the arrangements, but have that option for you guests in case they want to get away "sans kiddos". I mean, it's their vacation too !
In the Know.
Every home has it's own set of secrets. Share them with your visitors. Take them for a tour. Show them where they can store their things, locate essential items, how to make coffee in the morning. Teach them how to use the thermostat and air conditioner, lights, and t.v. You have already supplied them with your Wifi and password. Get them up to speed on your tech games and how to set thump and use them. Give them a set of keys for their visits they can come and go as they please. Here's the thing, guests are fun. You want them to feel their time in your home is fun as well. Put in a little effort and you will feel excited to show off your home and enjoy some time with your visitors.